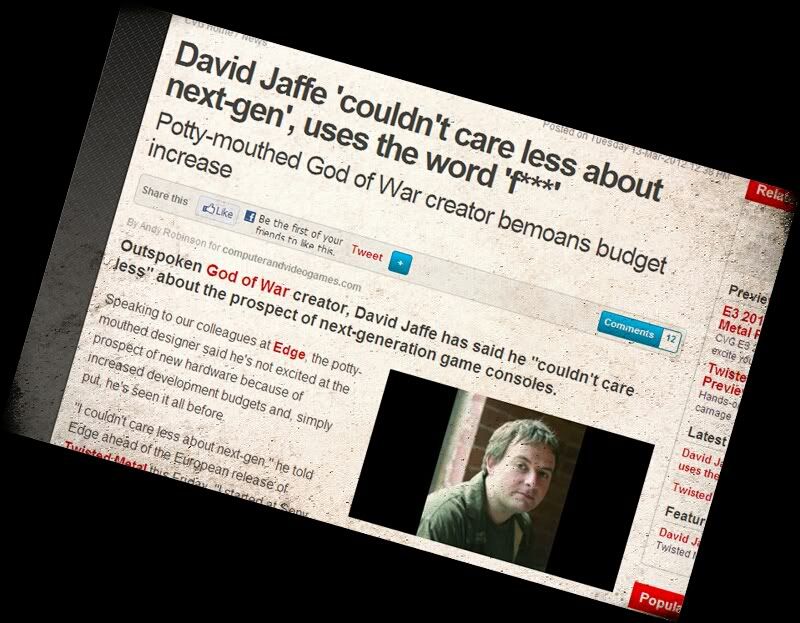 David Jaffe - founder of Eat Sleep Play and Director of Twisted Metal (PS3) - isn't shy of a little controversy. In fact, he veritably thrives on it,  sprinkling even the most mundane of interview responses with F-bombs as if to keep up that particular pretence .

In an interview in the latest edition of the UK's Edge Magazine he was on usual form, espousing (amongst other things) the benefits of browser-based games and the importance of interactivity in game design.  It was one particular response however that was quickly snaffled up for headline-duties by Edge's sister website, Computer & Videogames; a move that suggests that game-journalism isn't quite as distanced from the practices of tabloid newspapers as one would hope. 

'David Jaffe 'couldn't care less about next-gen', uses the word 'f***"  the headline read…a statement that, although no doubt doing its job and getting the punters in, doesn't hold up when you  delve a little deeper.  

'Are you ready for Next-Gen Consoles?', Jaffe was asked in the interview. 'Are there any features you'd like to be included to enable you to make the games you want to make?'

His response?: 'I couldn't care less about the next gen. I started at Sony Imagesoft doing Super Nintendo and Sega Genesis games, and I went through that to PS1, then PS2, PS3, Vita… You go through that cycle enough and you realise today's 'Oh my fucking God' is tomorrow's 'Ehh, whatever'. 

This would all be well and good, were it not for the fact that earlier on in the very same interview, the following exchange took place: 

Edge: 'So where do you go from here? [in relation to his post-Eat Sleep Play career]'

Jaffe: 'As much as I'm looking at doing a big next-gen title, a big IP in that space, I'm very interested in doing action games in PC and Mac browser, or smart TV's.'

This completely contradicts Jaffe's later statement that he 'couldn't care less about next gen', weakening his argument considerably while at the same time diminishing the shock value of C&VG story. Jaffe - and to some extent Computer and Videogames - should be called out for this.  Surely the real story wasn't to be found in that bombastic quote, but in Jaffe's contradictions? Here is a developer who has played a key role in developing some genuine, triple-A heavy hitters (God of War, Twisted Metal) caught in limbo; torn between the lure of browser games and smartphones, his past and the uncertain future that big-budget boxed, console-based games are having to face up to.    

There's no denying that David Jaffe is an extremely experienced developer, and that his is a voice worth hearing, but it is saddening that Computer and Videogames fell hook line and sinker for the  'I couldn't care less' quote without taking the whole interview into account.  It's all to easy to latch on to controversial statements and plaster them as headlines across a site (see the top of this very page; I hope my intended sarcasm translates…), but the gaming press should strive to be shrewder than that. It should cut through the bullshit and bring genuine perspective to the rantings of the Jaffe's of the world - rather than lunge for sensationalist headlines, frothing at the mouth when a 'controversy' arises.

Computer and Videogames itself is all too quick to point out discrepancies  on videogame coverage in the general press (and, in fairness, on many occasions, rightly so); but maybe it should start applying similarly rigorous standards to it's own news stories?
—————
1 note
Posted on Tuesday March 13th
capnraccoon reblogged this from gametaroo and added:

dick; always has been - But...concur with this,...only...

gametaroo posted this